Saunas
Certainly, there is no need to convince anyone about how beneficial saunas are to our bodies. You can improve the appearance of the skin, blood circulation and metabolism in an easy and pleasant way. Mood improvement guaranteed! The sauna area is intended only for adults.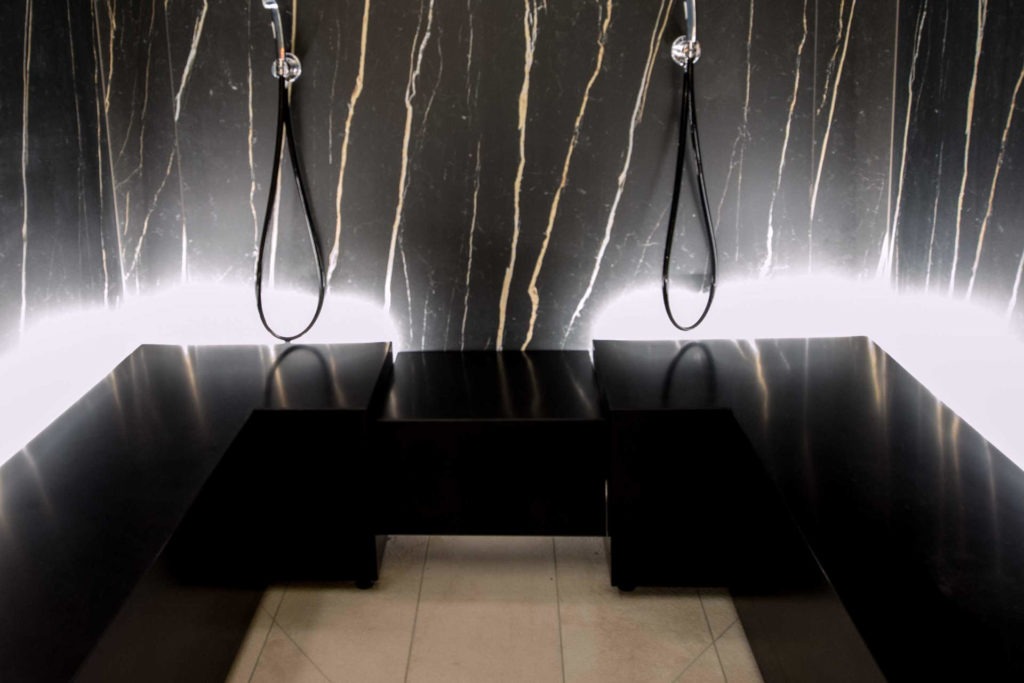 Steam sauna
The steam sauna is also called the Roman bath. It is the most traditional type of sauna, dating back to antiquity. The temperature here is not as high as in other saunas, so people who do not tolerate heat will feel good here. A bath in a steam sauna stimulates the secretory functions of the skin and accelerates the excretion of harmful metabolic products and toxins. Water vapor penetrates deeply into the skin and moisturizes it.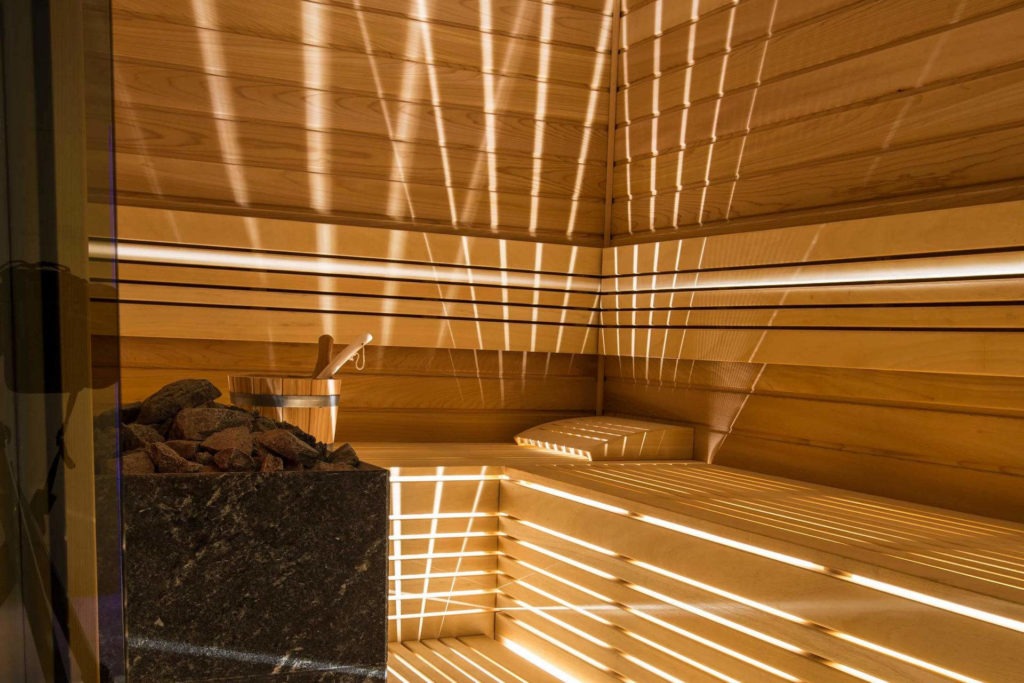 Finnish sauna
Finnish sauna is the so-called dry sauna. It has its roots in traditional thermal baths used in Finland. It is an excellent choice for those who want to cleanse the body of toxins, improve circulation and increase the body's resistance. Finnish sauna also has a beneficial effect on the respiratory system. In addition, the sauna relaxes the muscles and has a de-stressing effect.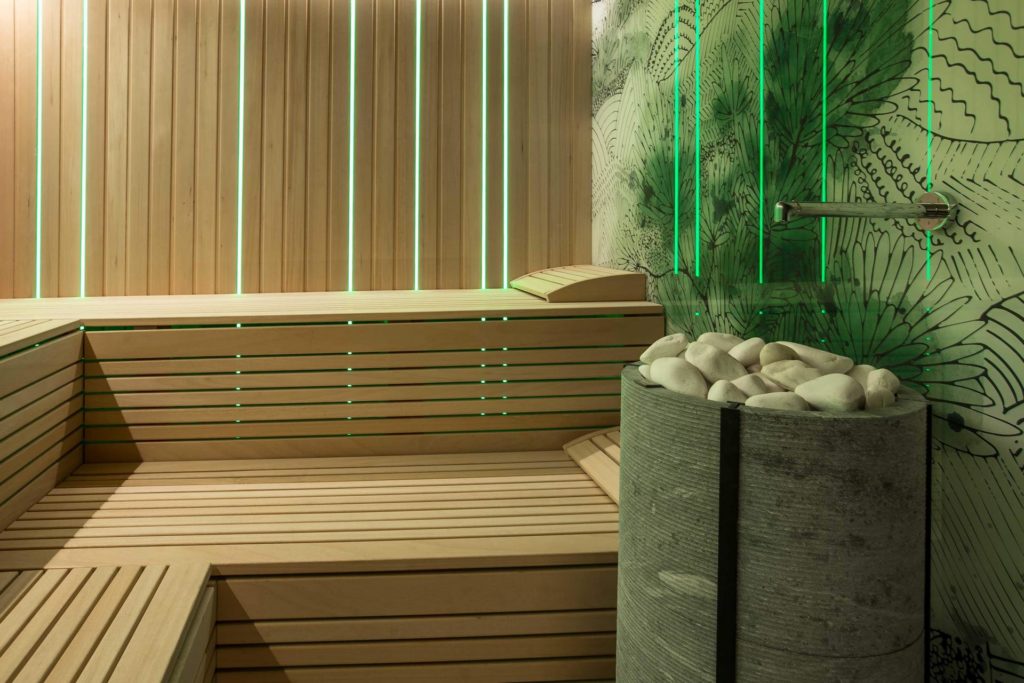 Herbal sauna
Herbal sauna combines the advantages of a dry sauna and aromatherapy. Essential oils and natural herbal extracts are added to the produced steam. The pleasant aroma of oils floating in the warm air soothes our well-being. Aromatherapy is a way to restore the balance of body and mind.
Ice cave
The ice cave is a room with a temperature of 5ºC. It is recommended to use the grotto right after leaving the sauna. Contact of a hot body with cold stimulates blood circulation and hardens our body. This gentle "thermal shock" firms the skin and strengthens the blood vessels. The internal organs are also stimulated to work.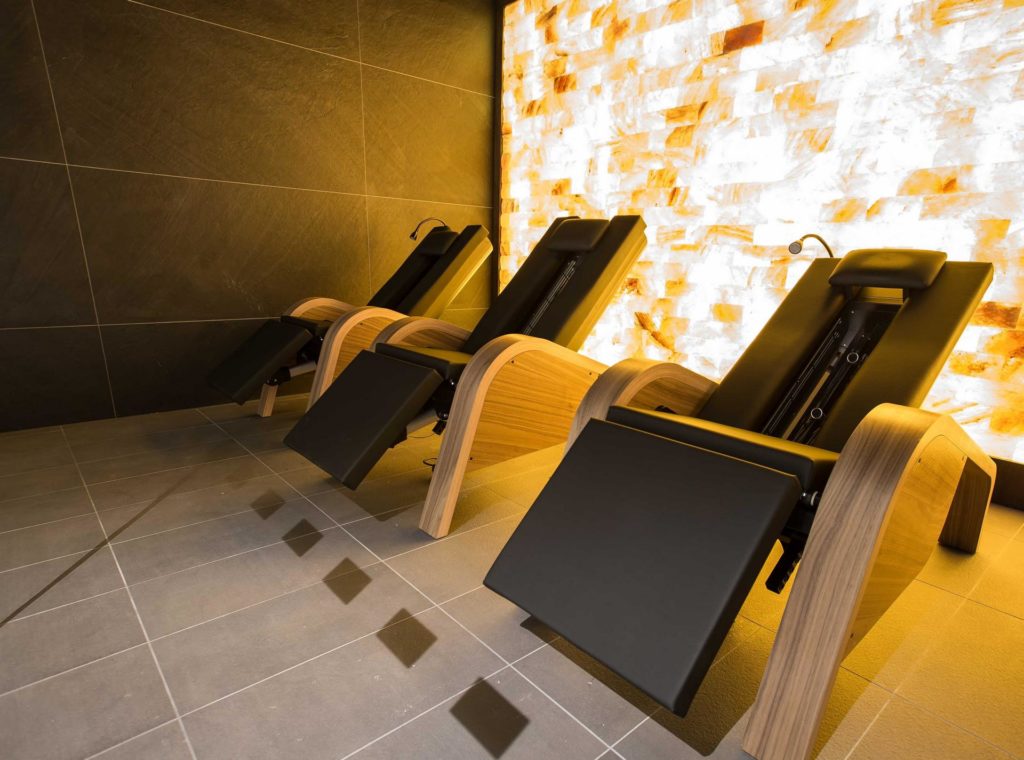 Salt cave with tepidarium and infrared chairs
A soothing rest zone in a calming atmosphere. The microclimate of this place releases beneficial elements essential for health, such as iodine, magnesium, iron, calcium and selenium. There is a delicate twilight in the grotto, illuminated by the amber glow of salt blocks.
The session here takes place on the most modern infrared loungers, which work precisely, especially intensively on the back part. Just sit down, lean back and press the button to select the desired program. The infrared effect soothes inflammation or any unusual pains and deeply relaxes the whole body.